Parakeets are a lot like humans when it comes to sleeping. Most of us like it dark, quite, and warm in our beds. Just like budgies, if we don't get enough sleep, we become cranky. Help your pet bird make the most of it's sleep time by supplying them with the best vet-recommended parakeet sleeping equipment for their cage.
Dr. Jess discusses her recommended equipment for your feathered friend below: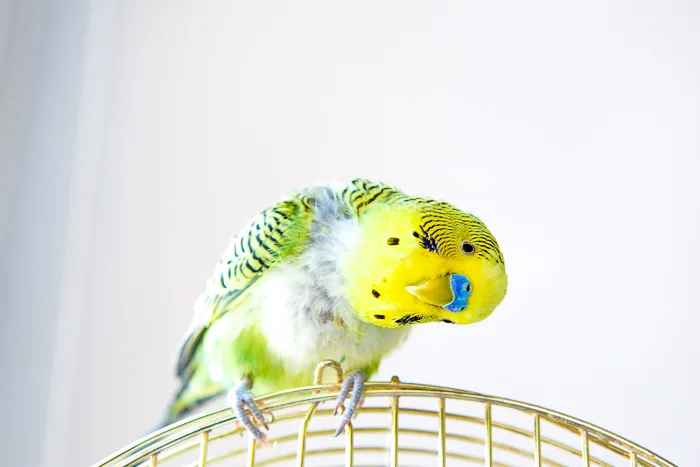 What is a Parakeet?
Parakeets, are also known as Budgerigars, or "budgies". They are small members of the parrot family of birds.
They are herbivores (plant-eaters), can grow to about 7 inches in length and can weigh up to as an adult.
They can commonly live to 10 years or more in captivity with the proper care and health maintenance routines performed by your veterinarian.
They are seen in a bunch of bright beautiful colors, ranging from yellows, greens, blues, whites, and purples being the most common hues.
Most parakeets are smart and easily trained to listen to commands of those that they trust.
Most are friendly and like companionship and interaction with their owners – handling these birds daily makes most of them very happy!
How Do Parakeets Sleep?
Closed eyes: When a parakeet closes their eyes they are likely sleeping, napping, or just really really relaxed and cozy.
Head Tucked: Many times a parakeet will tuck their face into their feathers while they sleep. Their head will be tucked into their neck or their head will rest along their back.
One Leg Up: Many times these birds will tuck one leg up underneath themselves to prevent heat loss since their legs are featherless.
When Do They Sleep?
Parakeets typically sleep at night or whenever the dark hours are for them.
Many budgie owners will cover their bird's cage at night to help block out extra light, noise, and trap in heat that help a lot of parakeets get their normal 9-12 hours of restful sleep.
What You Can Do To Help Your Parakeet Sleep
Cover their cage: but not so much that there is complete darkness – some budgies are afraid of complete darkness! I recommend using a cage cover like this bird cage cover.
Regulate that temperature: Keep their environment between 70*-80*F. Anything above or below that range can cause problems for your pet bird.
Tidy environment: Parakeets love a tidy cage, so keep unnecessary equipment that they don't need or use on a regular basis at bay.
Provide a comfortable sleeping equipment: We will get to this discussion below in just a sec…
Do Parakeets Need a Bed or Hut For Sleeping?
Parakeets love snuggling up for bedtime and many actually like to lay down on soft, flat surfaces as they wind down for the night!
Parakeets love having a safe and secure place of their own where they can relax enough to get multiple hours in a row of restful sleep.
There are a big variety of pieces of equipment for parakeet cages out there on the market.
It all just depends on what your parakeet likes best – kind of like some people like a firmer mattress, while others of us like soft and plush!
So, to answer the question, NO parakeets do not need a sleeping bed or hut. They may like them, but you and your veterinarian must weigh the pros and cons of sleeping huts for your parakeet.
Qualities to Look For in a Hut:
If you and your veterinarian decide that a sleeping bed or hut is the right choice for your bird, there are multiple factors to look for in your bird's hut.
Your parakeet is looking for a place to rest and get some shut-eye.
You are looking for an affordable and safe sleeping bed that your bird will actually use.
When looking at sleeping beds, look at:
The materials used: Are the materials used to make this bed safe for your pet? Make sure to monitor your pet bird to ensure that they are not chewing on any of the bed's materials or getting their feet stuck in the materials.
The intended use of the product: It is for sleeping or nesting/breeding?
Cleaning guidelines: Is it easy to clean?
Online reviews: Do others report that their parakeet actually will use the bed?
If you still have questions as to whether the parakeet bed is right for your bird, consult your local veterinarian with concerns – trust me… we are happy to help answer questions about your pet!
Best Parakeet Sleeping Equipment for Their Cage:
Remember, as with any decision on what is best for your pet, it is best to refer to your local veterinarian that knows you and your pet.
Also keep in mind that not all products are made equal and that products and manufacturers can change.
Make sure that no matter what you are placing in your parakeet's cage, that it is of high-quality.
Do not put anything in their environment that they can destroy, swallow, or hurt themselves with.
Best Vet-Recommended Parakeet Sleeping Beds and Huts
Parakeets are a lot like humans when it comes to sleeping. Most of us like it dark, quite, and warm in our beds. Just like budgies, if we don't get enough sleep, we become cranky. Help your pet bird make the most of it's sleep time by supplying them with the best vet-recommended parakeet sleeping hut or bed.
Photo Credit: Amazon.com
"I love that this hideaway is handmade and created from natural, eco-friendly materials. The hut connects easily to the cage with quick-link attachments to make it customized to your parakeet's setup and liking." -Dr. Jess
Photo Credit: Amazon
This fun looking toy is another great option for your parakeet to play and rest on. This "playground" gives your pet bird many different options of places to nap and rest, and also interact and play. Tha all-natural wood has no paint or stain on it to worry about that would make it potentially toxic. It also does not have any fabric that can be problematic to some birds.
Summary of Parakeets Sleeping:
You want your parakeet to be as healthy and happy as can be.
A huge part of being a healthy and happy budgie is having the right amount of good, restful sleep.
By providing a veterinarian-recommended parakeet sleeping equipment, you are increasing the likelihood of your bird getting all the amazing sleep that they deserve!