Pet lovers everywhere can agree on one thing…. we really love our pets! Dr. Jess breaks down all the pet products you need to have during the holidays (including her number one product she has on hand at every holiday!), and what you need to keep in mind whether you are staying at home with your pet, traveling with your pet, or traveling without your pet this holiday season.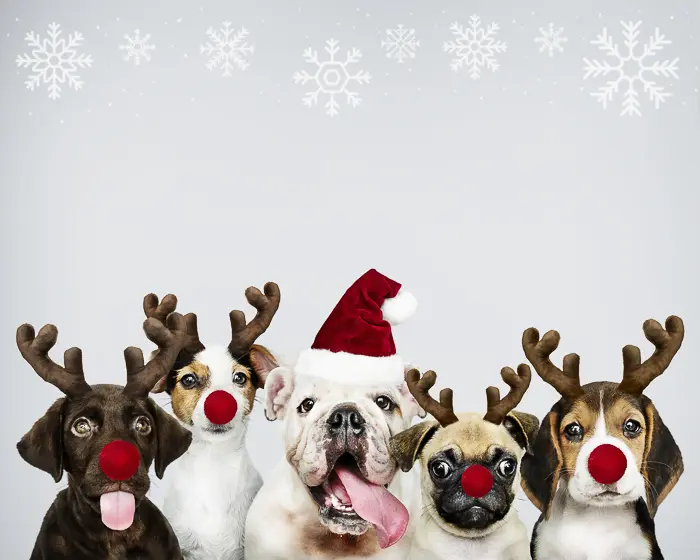 This article may contain affiliate links. Read more on my disclosure.
I know that you are here because you want tips and tricks on how to handle the holidays with your pet with as few hiccups as possible.
So, I'd like to start out with my list of pet products for you to pick up beforehand, that will make your holiday season less stressful.
The more that you and your pet can plan ahead and be prepared, the better for everyone.
Remember, the holidays can be great fun, but they can also be quite stressful, on you and your pets.
The first item in the list below is a product that I have on hand at every holiday. This affordable product is a life saver and the few times that I did not have it on hand, I facepalmed myself – I wish I had it with me!
I then give you tips on how to handle your pet in certain situations: the holidays at home and the holidays away, with your pet!
Pet Products You Need to Have During The Holidays:
The list below is a group of pet products that I use either on a daily basis with my own pets at home, or I pack them along on trips during the holidays.
I have learned from trial and error, that many of these items, you may not think to pack on a trip or necessary until xyz actually happens.
So whether you are at home this holiday season with your fido, you are traveling to family and friends with Fluffy, or you are getting away to a fun new getaway vacation with your best furry buddy, make sure you bring everything necessary in this survival guide.
I break it down and tell you why I think each one of these products in this list needs to be on your list too.
Pet Holiday: 15 Products to Help You Handle the Holidays with Your Pet
If you have a product that you love to have around the holiday season for you or your pet, please send me a message and I will check it out and possibly update this list!
Where to Buy Gifts for Pet Lovers?
Don't stay with family or friends this holiday season, empty-handed, without a gift in hand!
More than likely, wherever you are headed, they are not only okay with you bringing your pet with you, but that they love pets too.
I like to buy my pet lover gifts from Amazon because of Amazon Prime's free 2-day shipping and overall ease of purchase. If you don't have Amazon Prime – sign up for a free trial here!
Staying Home With Your Pet During The Holidays:
Just because you are staying home for the holidays, doesn't mean that you have nothing new to consider when it comes to your pets. Here are a few things to keep in mind that you can look into:
Stock up on cleaning supplies: Yes, we all know at this point in the year that our toilet paper supplies need to be stocked up at all times because stores are always running out. That may not be the case for other cleaning supplies such as carpet cleaner, paper towels, etc., but when you aren't stocked up on these things, that's exactly when you need more of them. Don't run out to the store at the last minute because you didn't stock up on essentials earlier on.
Stick to your routine: Just like most humans, pets don't like to change up their routine if they don't have to. Your pet will be most comfortable at home for the holidays this year if their normal daily routine is maintained as best you can. For example, keep meal times at the same general time, go on your daily walk, turn off the lights for the night at the normal time.
Keep your pet entertained: Have lots of toy options so that your little buddy has things to keep them entertained if you are out more due to holiday parties or if you have guests over that require more of your time that you would normally be spending with your pet.
Traveling With Your Pet During The Holidays:
Traveling with your pet can be stressful. Traveling with your pets during the holidays can take that stress up a notch. Here a couple things you can do to make your travels a little less stressful.
Write lists and double-check your packing: I always have to make a list specifically for my pets. I start it at least a week before we hit the road. That way, when I think of things throughout the week that I want to add to the list, I've got the time to do it. If I start creating a travel list the night before I leave, I will definitely forget to add multiple things on my list, defeating its entire purpose.
Plan ahead: Where will your pet go when you are busy or out doing things with family? What happens if your pet gets sick on your trip? What happens if your pet's collar or crate breaks or some other pet breaks into and eats your pet's food? Then what happens? Bring extras of things – you won't regret it.
Plan to adjust: I know for me, when I am traveling in the car with my pooches, there is always the unplanned pit stop for a potty break or a get-the-wiggles out walk session.
Have an emergency plan: Remember that you are going to be far from home. That means far from your local veterinary clinic in case there is an emergency. Also keep in mind that many vet clinics are closed on holidays. Therefore, I recommend charting out where the nearest emergency veterinary clinics are throughout your holiday traveling route. It's better to be over-prepared for an emergency than under.
Leaving Your Pet At Home During The Holidays:
If your holiday plans look more like leaving your pet at home while you travel – there are a few things to keep in mind to keep both you and them as comfortable as possible.
Check in with your pet: I can't think of a better way to use a webcam while you are gone that using it to check on your pet. I have checked up on my little pups so many times via my webcam and more times than not, I end up with a good chuckle, catching them being either really naughty or really cute. Trust me, it will make you feel much better if you can see and hear them in real time!
Spoil them from afar: I think that we have all seen commercials for treat dispensers. Your pet is trained to interact in some way with the dispenser and a treat comes out. Well, this treat dispenser has night vision so it can work in low light situations, has a bark alert to alert you to when they are barking, and tosses treats. It works off of wifi and even is compatible with Alexa.
Hire some additional help: Sometimes a professional licensed and bonded pet sitter or dog walker may be in order to give your pet a little extra attention while you are away. Your sweet nextdoor neighbor or your friend from across town are so nice to help you out and take care of your fur-babes while you're away, but that extra check-in or two from another set of eyes can really help boost your pet's morale (and help spot any potential issues) when your pet is missing you this holiday season.
What If Your Pet Has Medical Issues?
If your pet has any known medical issues, I highly recommend bringing your pet in for a check up around the holidays.
This is a good time to get prescription refills, copies of medical records, and vaccines updated (especially if you are going to board your pets at a boarding facility).
These items are good to get done whether you are staying at home with your pet or you are traveling with them as local vet clinics, including yours, may close during the holidays.
If you are crossing state lines, you may need to have paperwork with your pet, so let your vet know when and where you will be traveling with your pet.
What To Do if Your Pet Gets Sick During The Holidays?
The holidays mean that not only will the grocery store be closed, but more than likely, most veterinary clinics.
You may be traveling and far from your local veterinary clinic, where they know you and your pet and can get to all of those help veterinary medical records.
Therefore, I recommend charting out where the nearest emergency veterinary clinics are throughout your holidays, whether you are staying close to home or traveling to far away destinations.
It's better to be over-prepared for an emergency than under.
This way, if you do find yourself in an emergency situation with your pet, you know exactly where the closest emergency clinic is.
You can head their way immediately, call them to inform them so that they know how to prepare for your arrival, and ultimately save an incredible chunk of time that you would be using to Google emergency vet clinics.
These precious minutes could mean life or death.
Summary:
The holidays are stressful enough on their own.
This article gave some great tricks and tips on how to make the pet holidays a little bit easier with tried and true products and actions that you can take to make everyone's holiday a little brighter and less stressful.